The Ronald B. Smith Library
The Ronald B. Smith Library was started back in the 1970's. It contained books for both children and adults. We have now split the library into two collections, one for children up to age 12 and the other one for youth and adults. Both are located in the basement. The adult collection has moved to a new location and the children's collection has remained in the old location.
Reference books should normally be used in the library, but some of them may be borrowed for up to one week.
Our other books may be borrowed for up to 4 weeks at a time. (With a limit of 3 books at a time.)
We are currently in the process of putting the catalog of the adult books online. We are still using the old circulation system which involves cards in the back of the books, so you will not be able to determine if a book is actually in the library at any given moment, but the online catalog will tell you which books we own. You can check the catalog here.(Current status: almost complete.)
Note: you do not need to sign in to check our catalog. There is a sign in link, but that is for those who want to catalog their own books using LibraryThing, not for those who want to consult our catalog there.
All long time members of our church are automatically members of our library and may borrow books.
If you attend the church and are not on our library registration list, you may still borrow books, but you must register first. You may register online or in person. We need your contact info. If you are a member of our church and/or library and move, please send us your updated contact information if you wish to continue to borrow books.
If you have any questions about the library, or any suggestions, or would like to write a book review for us, you can email us at
Peoples' Children's Library
The children's books were left in the old location now called Room A, however the collection has dwindled. We plan to get some new shelves and rebuild the collection.
We ask that parents supervise their children and make sure that they check out books properly and return them.
Children may borrow up to 2 books at a time. Loans are for 2 weeks. Books may be renewed once.
Online Resources
There are many resources available online. Some are freely available to everyone. Some are by subscription only. Some are full of misinformation, others are good and reliable. We will give you some helpful hints for finding good Christian resources online here.
RightNow Media
RightNow Media is a subscription service which has many informative and educational Christian videos for both children and adults. Our church has a subscription and you can sign on as a member of our church or as a guest. To access our sign-up page, click here. To learn more about it, click here.
Open Library - Available online for everyone
One good secular source for books which includes many good Christian books is the Open Library run by Internet Archive. This resource is free to all. If you wish you can check to see if the books in our library are also available there. Many of them are. We have even marked some of our books to let you know they are available online, but we have not attempted to label all of them and even if we tried to list them all, they could always add to their collection at any time.
Many newer books are not available there, however they have many good old classics, and many fairly recent good books.
When we review a book from our library on our blog, if it is available at Open Library as well, we will include a link to it there.
------------------
More about RightNow Media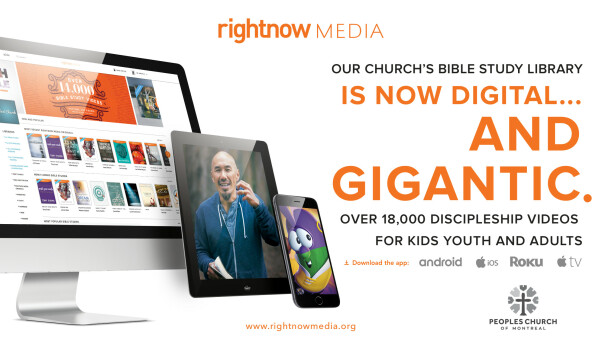 Everyone's Invited!

At Peoples Church of Montreal, we are excited to provide access to more than 18,000 videos of Bible Study, family and children's content that is Bible centered.
Visit the link below to Sign-Up for your free account:
https://www.rightnowmedia.org/Account/Invite/peoplesmontreal
RightNow Media is a wonderful library of video resources for all ages from churches and pastors all across North America, to help you develop and grow as both a disciple of Jesus. Streaming directly to your computer, tablet, or mobile device, you'll find the online Bible Study Library includes relevant content for every age group or spiritual season. You can search by category, topic, or speaker. Additionally, many of the series have direct links to workbooks and leader guides.
Parents, you'll find that RightNow has a multitude of videos and resources for your kids. Utilize the links below to start using this resource today.

Our one subscription gives unlimited free access to everyone at Peoples Church and our guests.


About RightNow Media