Men's Breakfast
Men, where else could you get an excellent breakfast at an amazing price? Come along on the last Saturday of each month at 9.00 am to enjoy a time of fellowship with other men in the church. Get to know each other; listen to an encouraging message and of course, enjoy a really good breakfast.
Check the men's ministry calendar for details.
Men's Prayer meeting
Men, we have an opportunity to come together and pray to our God. It is a wonderful opportunity to pray for each other, to lift our prayers to God. Join us on a Tuesday evening at 7.00 pm in person at the church. We currently meet twice a month.
Check the men's ministry calendar for dates.
Men's Health
Men: are you feeling sluggish after the winter. Do you look at your summer clothes and wonder if you would ever fit into them again. Don't panic, we have just the thing for you. On Saturday April 15th 2023, 9.30am, at Peoples Church, we are starting a series of gentle stretching exercises to get you flexible and mobile. Whether you are 7 or 97, all ages are welcome.
Check the men's ministry calendar for dates.
XCC Quebec
Men: What could you do with your new found flexibility and mobility as a result of your Saturday morning exercises? You could try the XCC challenge. The details are on the attached brochure. Please note, this is an extreme challenge and is not for everyone.
You don't have to be in top physical condition, but you should be able to carry a fully loaded backpack over rough terrain for 72 hours, and still have some energy/strength left to help another if the need arises.
For more information check out their website and be sure to click on the red button to see all the details.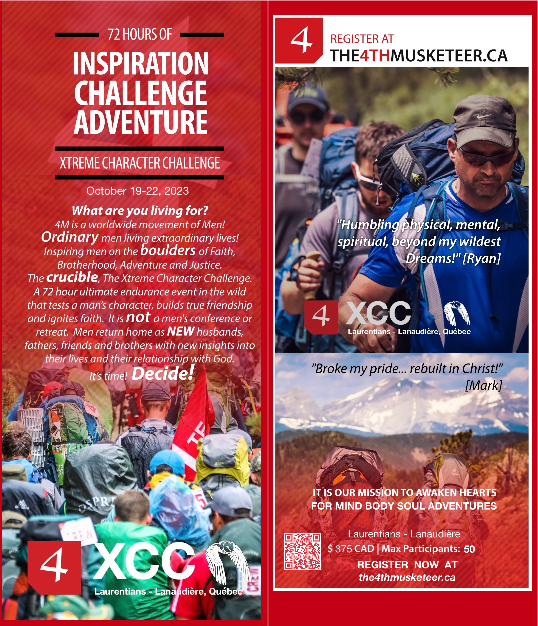 There is a registration form here.