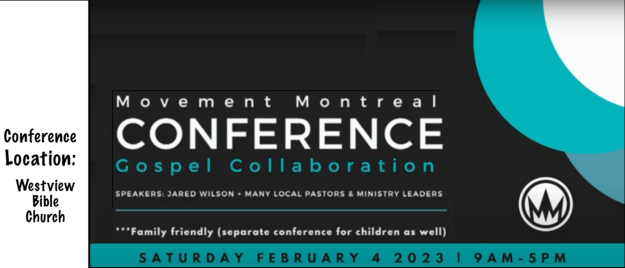 Movement Montreal
Saturday, February 04, 2023, 9:00 AM - 5:00 PM
A Montreal area conference taking place at Westview Bible Church.
Speaker: Jared Wilson - author, professor, and pastor
Topic: gospel community and gospel mission.
There will also be many local pastors, leaders, and church members sharing during the other sessions, worship music led by musicians from the local churches and lots of opportunities to meet and speak with people from the different local churches within Movement Montreal.

And... this conference is for children as well. There is a separate conference happening for children 5 to 11 years old and a nursery for those 0-4 years old.
For more information including the cost see: https://www.movementmontreal.org/conference
You will also find a registration link on that page.