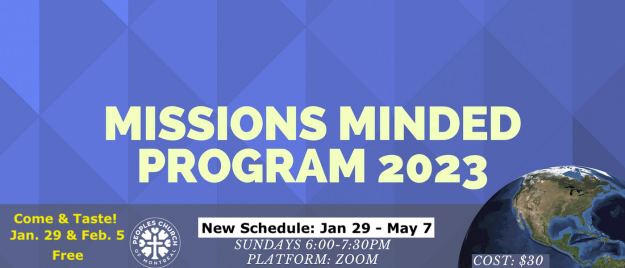 Missions Minded Program (Zoom course)
Every Sunday, from 01/29/2023 to 05/07/2023, 6:00 PM - 7:30 PM
The Mission-Minded Program is a 14-week course designed to prepare and equip you for entering the mission field! Its 21 contact hours cover 11 aspects of modern missions. We will cover a variety of topics, including:
who is a missionary,
who can help you,
choosing a mission agency,
raising prayer and financial support,
leadership and communication skills needed on the mission field,
discipleship, preaching, church planting,
adapting to the field and culture, health, and safety,
re-entry back home and retirement.
Our teachers come from diverse walks of life and bring unique expertise sets - they include pastors, professors, campus ministry leaders, and missionaries representing local and international missions: - you will see their names and email addresses at the end of the schedule.
UPDATE:
We want the Missions Minded Program to be more accessible to more people and therefore we have decided to replace Final Exams with mentoring and journaling. This decision also shortens our course and so we will be ending on May 7th. One last thing, we are inviting anyone to 'come and taste' which means you can sit on Jan 29th and Feb 5th without paying. If it's not for you you can drop out. You pay only if you decide to go on.
Email Dita Stepita-Poenaru - if you would like to "come and taste" the program.
What you need:
Each participant will need to connect to a Zoom app and will need to have a computer, tablet/iPad, or smartphone with a functional camera and microphone. We would ask that you keep your camera on at all times, and be comfortable, a) turning on and off your video, b) muting and unmuting, c) answering polls, and d) joining and leaving a breakout room. Also, some lectures will have educational material that will need to be downloaded. You will be informed of this when necessary.
To get the most from the course, we strongly encourage you to attend all the sessions and do all the readings and assignments. If you cannot attend a session, please inform the registrar (Edita Stepita-Poenaru) or your teacher. Unfortunately, at this time, we will not be able to record the classes - therefore we encourage you to obtain notes from your classmates if you miss a class. There will be practical homework after the classes and a final take home exam on the last day. If you successfully complete the program, we will issue you with a certificate.
To pay for the course:
You can send a cheque made to Peoples Church of Montreal for $30. Indicate your name and course MMP in the memo or on a note.
Mail to address Peoples Church of Montreal, 2097 Union Ave., Montreal, QC, H3A 2C3
Or send your E-Transfer to . (Write your name and MMP course in the message box).
More Information:
For more admin information contact the Registrars :
Edita Stepita-Poenaru ( )
or Hannah ( )
For lecture questions contact:
Ken Godon - Pastor of Peoples Church Montreal
Email

Dr. Rodney Squire - MMP director
Email
Dr. Glenn Smith -

Kim Lidstone - AIM Short-Term Mission Coordinator
Email
Dan MacKinnon - AIM Pastoral Liaison
Email
Edita Stepita-Poenaru- AIM-Provincial Mobilizer
Email
---
Date: Sundays January 29 – May 7, 2023
Time: 6:00 PM -7:30 PM
Venue: Zoom