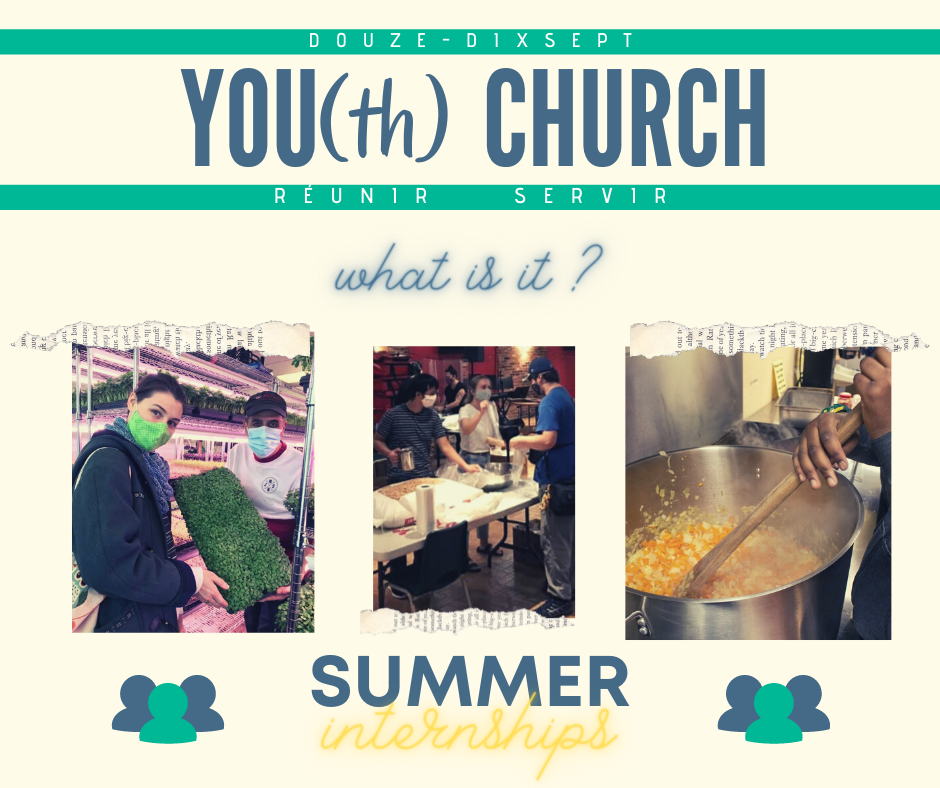 Hello everyone
We would like to invite you to come serve your city and be the hands and feet of the gospel. For 5 days in July we are collaborating with Youth Church, Christian Direction and downtown aid organizations to serve others in a variety of ways and to learn about the power we have to impact our city.
This Internship is offered by Youth Church, the Montreal downtown network of churches who are collaborating together to disciple youth and young people. We do this by teaching the message of Jesus, and in serving our city in the method and manner of Jesus.
We are still in a pandemic, which means we can't travel and we can't gather in large groups, but we can still serve our city! These internships will give an opportunity to all participants to reflect on their identity as Christians, and how this plays out in their daily lives as they love their neighbour, learn to help without hurting and serving their city in reconciliation with God their creator.

What will they actually be doing?
For five days, Monday through Friday, participants will work in downtown Montreal, serving food at Innovation-Assistance (the food bank), cleaning up the neighbourhood, preparing food for local services that take care of the homeless, and even working with some local farmers.
The work will not be easy, but it will be life-giving.
We will start every day in prayer and in a group discussion on themes of helping without hurting, what it means to be Christ-centred in service, and how to love our neighbourhood in God's name. These sessions will be led by the pastoral youth staff at Church 21, Evangel Pentecostal Church or People's Church of Montreal.
We will end every day with a debrief session, in which we will help every participant become the most awesome version of themselves.

How old do you have to be ?
12-19 yrs old
Where is the internship being held?
At Evangel's Lighthouse, 2154 Ste-Catherine Ouest.
Who is in charge?
Christian Direction is hosting the internships, and will oversee all planning of activities and ensure all health, safety and child protection protocols are implemented. During the week of the internships, staff and trained volunteers from Christian Direction will be on the floor, as well as the pastoral staff from either Evangel Pentecostal Church, Church 21 or People's Church of Montreal.
What about Covid-19?
Yup, we're still in a pandemic! Christian Direction diligently follows all the public health guidelines in terms of hygiene, social distancing and mask wearing. We have regular visits from staff at public health ensuring that our protocols and guidelines are still up to date and being respected. While at the internship, participants will be provided with all necessary protective equipment. In the registration form is a waiver detailing responsibilities on both Christian Direction and the parents. For instance, if your child is exhibiting symptoms, or have been in contact with anyone who has tested positive recently, they must stay home!
How much is the internship?
50$. Scholarships are available for those who need it.
Payment via cheque (to Peoples Church of Montreal) or e-transfer (Ask Pastor Chris for the details)
How do I register my child?
Registration for the Youth Church internship of Summer 2021 is OPEN!!!!
Click in the form!
https://docs.google.com/forms/d/e/1FAIpQLSe4oC9OQiOwwnx5mB2070qEvA3PNFRup0ssIIqAFCQk_oNOgQ/viewform?usp=sf_link
Space is very limited, we can only host 10 teen per week.
**As Peoples Church we are planning to try to all sign up for the first round of the program. July 5-9 so please choose that option when you register**
If you have any questions, please email Pastor Chris at