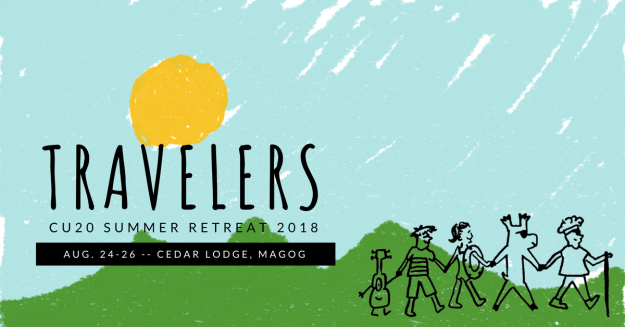 CU20 RETREAT
Friday, August 24, 2018, 6:00 PM - Sunday, August 26, 2018, 5:00 PM
Summer is here and CU20 is going on vacation!
We are planning a CU20 Summer retreat full of fun, fellowship, community worship, prayer in solitude and teaching. So come with us on this awesome trip! We aim for this to be spiritually refreshing. So we have built into the schedule periods of group worship and teachings as well as ample opportunity to pray and study the word in solitude. The teaching will focus on Prayer and seeking God.
Where?
Cedar Lodge is a beautiful site near in Magog, Quebec, about an hour away from Montreal by car. It has beautiful log cabins to sleep in and is surrounded by a thick forest inhabited by deer and other wildlife. The meeting hall overlooks a lake at the doorstep of the site.
It has many facilities available to keep us entertained:
∙Swimming in the lake
∙Canoeing
∙Volleyball
∙Boardgames
∙Hiking
∙Open air chapel
When?
August 24th to 26th 2018
We will meet at 6pm on Friday the 24th at Peoples Church of Montreal and we will return to the Church by 5pm on Sunday the 26th
How much?
The cost of the trip will be $65 per person. This includes travel, accommodation, all meals and all activities.
How do I Sign Up?


We need everyone signed up by Aug 19th. Simply email Pastor Chris stating you intend to join the retreat. To secure your place I will need...
Full Name
Preferred email address
Phone Number
Medical Insurance Number (RAMQ or other)
Food Allergies or Special dietary requirements
Any relevant medical information
Also if you have a car and are willing to drive people to and from the retreat please let me know as we are in need of drivers.

Thanks everyone. REALLY hope to see you there.
For more info, please contact: Pastor Christopher Shipster