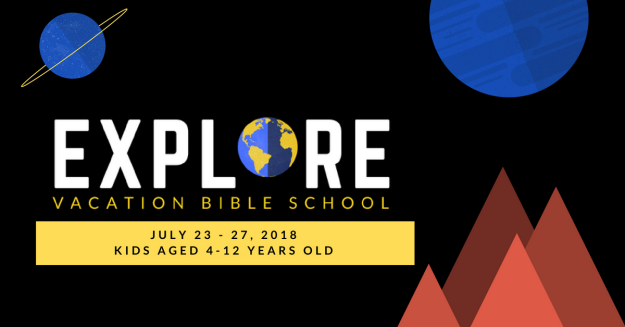 Vacation Bible School
Daily from 07/23/2018 to 07/27/2018
EXPLORE VACATION BIBLE SCHOOL
Calling all kids! Join us on a voyage of discovery as we explore this amazing world that God created and our special place in His heart.


At the program kids will learn about the wonderful world around us, the God who is behind it all, and the special purpose God has put in everyone. Explore V.B.S.(Vacation Bible School) is filled with wonderful learning experiences exploring faith though plenty of fun activities. Arts and craft, awesome Christian songs, interactive bible learning, wacky games and funny skits are just a few of the activities of the V.B.S. program. (The program is very hands on, so be sure to come in play clothes and safe shoes.) We hope that we can help kids to see God at work all around them, to know who God is and experience the love He has for each of them.
Date: July 23-27, 2018
Target age group: 4-12 years old
Cost:$25
PROGRAM
8:30 - Doors open
9:00 - Program starts
12:00 - Lunch (provided by Church)
1:00 - Program ends
1:00 - 4:30 Optional aftercare
(If you are unable to pick up your child at 1 pm we will supervise them until 4:30 pm, there will be no structured program during this time)
An additional $10 is asked if you require this service.
Interested in volunteering?