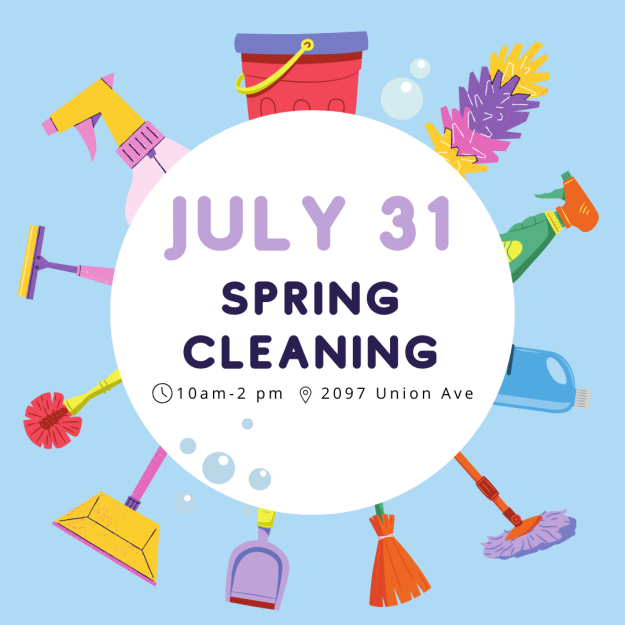 Cleaning Day
Saturday, July 31, 2021, 10:00 AM - 2:00 PM
Since the pandemic, our church staff has been faithfully serving our church through outreaches, maintaining relationships, small groups in our church and praying for one another. These are all blessings and are the produced fruit of God's calling completed.

While these amazing blessings like friendships and answered prayers were being fulfilled, clutter and dust in the church accumulated once again. So as a family in Christ, we invite you to use your muscles, organizing gifts and time to bring the church back into its cleanest form!
Our goal is to have the church cleaned on July 31st and maximize its space to bring as many of our members and new members into the church as the COVID-19 regulations are loosening.
May we have a church that physically shines but also a church that shines the light of Christ!

We need all the church family up in here! No need to worry, we will be keeping social distancing and serve the church according to the COVID-19 regulations. We will all be wearing masks and gloves.
Please bring gloves and a bucket.

Jobs to take on:
-Reorganizing the sanctuary and storing chairs
-Reorganizing the library
-Mopping and vacuuming the floors
-Sanitizing the Nursery
-Washing the windows
-Deep cleaning of the kitchen (fridge & cleaning the cupboards)
-Dusting surfaces
-Storing items in different rooms
-Sorting donation pile

With some pumping tunes and great snacks to keep us motivated, we will have a wonderful day doing good for our church and showing God we are grateful for all he has given us.