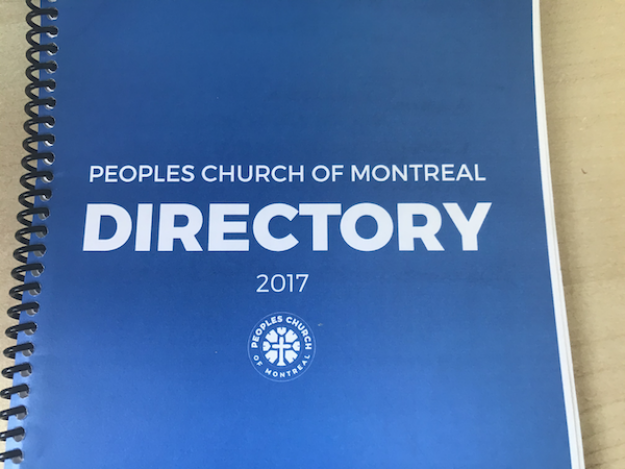 Church directory update (Stage 2)
Third Sunday, Fourth Sunday from 11/14/2021 to 12/08/2021
We are updating the church directory in 2 stages.
Stage 1
We have created a digital update which we have emailed to those with email addresses who submitted their contact info.
Stage 2
This fall we are asking for updates from people who have moved in July and we will gather information new members. We will produce a new directory, hopefully to be printed and distributed in the church by Christmas.
---
If we missed you on the first pass and would be like to be included in the fall update ...
A. If you are correctly listed in the church directory and there are no changes.
Use this link: - to give us permission to include you in the new directory with the information from our 2017 directory.
B. If you have just a few updates - or just want to add a neighbourhood code*
Use this link: it will specify that you are sending an update. Please be sure to include all fields that need to be updated or elements that you want removed, but you need not include phone numbers or addresses that have not changed.
C. If you are not in the 2017 directory, but would like to be included in the next one
Email us using this link:
- this link is for new registrations.
Please include the following instruction and information:
Please list me in the 2021 directory using the following information, but without the birthdates and sex.
Last name, First name, (birthdate and sex - for church records only)
Spouse's name (may include maiden name and married name for women)(birthdate and sex - for church records only)
Children living at home in birth order (birthdate and sex - for church records only)
Address
Home phone
Cell phone(s)
Email(s)
neighbourhood code. (Optional)
I live in _______
(or) I live near ________
D. If you wish to send us updates, but do not want to be included in the directory, just email the church secretary at:
---
Optional:
Montreal is a huge city. If your address does not include a borough or city, make it easier for us to identify your neighbourhood, by adding a neighbourhood code.
I live in _______
(or) I live near ________
For ease of use, if you live on the West Island, add MWI even if your address includes a West Island area like Pierrefonds or DDO, include this info.
Codes for Montreal neighbourhoods:
BSO – Borough Sud-Ouest - includes Atwater Market area
CDN – Côte des Neiges and Snowdon
MHB - Honoré-Beaugrand Metro
MMP – near Maisonneuve Park (Olympic Stadium)
MSL – St. Laurent Montreal
MTL – downtown Montreal
MWI - Montreal West Island
NDG – Nôtre Dame de Grâce
PEX – Park Extension
PMR – Plateau Mont-Royal or near La Fontaine Park
TMR – Town of Mont Royal
UdM – Université de Montréal
Off Island:
MSS – Montreal South Shore
MSSE – East South Shore = Brossard and towns north and east of it
MSSS – LaPrairie and towns south and west of it.