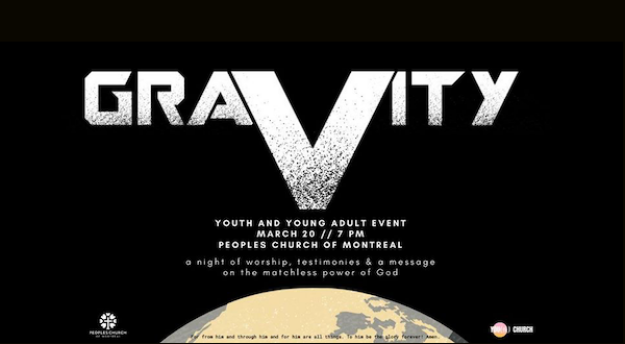 GRAVITY // Youth Rally 2020
Friday, April 17, 2020, 7:00 PM - 9:30 PM
YOUTH RALLY 2020
---
It is with HUGE excitement that we at Peoples Church would like to invite you to our 2020 Youth Rally GRAVITY!
This is a FREE event for youth and young adults (high school, CEGEP, university and young professionals). It will be a night of worship, testimonies, and preaching.
The event will be held at 7:00 pm on March 20th
Peoples Church of Montreal
2097 Union Ave, Montreal
Our heart for this event is to bring the body of Christ together from all corners of Montreal to be encouraged, to be reminded of all the work that God is still doing in our city and to spur one another on in our faith.
The theme of the night is the glory of God. Glory is a hard word to define, but in means something akin to weight, importance, or heaviness. This is why we chose the word Gravity, to capture the pull of God in this world and on our hearts.
The inspiration for the theme came partly from a quote by David Wells
"… one of the defining marks of our time that God is now weightless. I do not mean by this that he is ethereal but rather that he has become unimportant. He rests upon the world so inconsequentially as not to be noticeable. He has lost his saliency for human life. Those who assure the pollsters of their belief in God's existence may nonetheless consider him less interesting than television, his commands less authoritative than their appetites for affluence and influence, his judgment no more awe-inspiring than the evening news, and his truth less compelling than the advertisers' sweet fog of flattery and lies. That is weightlessness. It is a condition we have assigned him after having nudged him out to the periphery of our secularized life.… Weightlessness tells us nothing about God but everything about ourselves, about our condition, about our psychological disposition to exclude God from our reality."
We want to show that God is not weightless to us. That despite the attitudes of those around us, He still moves in powerful ways and he still reigns above all in this world and in our hearts. We declare with scripture
---
"For from him and through him and for him are all things.
To him be the glory forever! Amen."
Romans 11:36
---
To learn about our awesome, glorious God and to worship him as a community is the first and highest reason that we desire to hold this youth rally. We would be honoured to have you join us to worship and praise God together.


Please help us spread the word and invite everyone to this event!
Link for the the Poster
Link for the Instagram Post