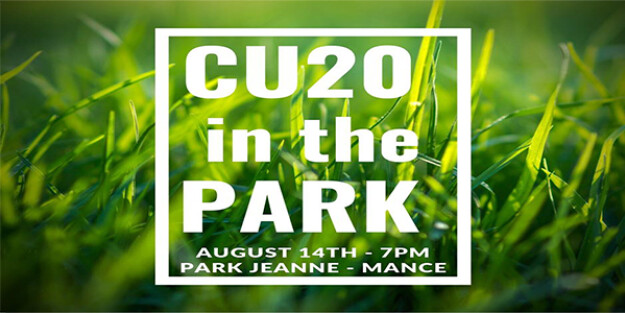 CU20 in park
Wednesday, August 14, 2019, 7:00 PM - 9:00 PM
CU20 In The Park 2.0!
A Bit of Rest
Hey y'all;
This coming Wednesday we will be doing something a little different. We will be hanging out at the park. After a couple of weeks of great studies, it is good to get the time to reflect and rest on what has been learned.
We will be having a short testimony as well as some very low key acoustic worship and some fun activities throughout the night. We will meet at Park Jeanne Mance for 7 pm.( Location on the map below) To get there you get out at Place Des Arts metro station and then head North on Park Avenue. Once you pass a set of Vollyball courts on your right you will pass Duluth Ave, then look for us on your right in the park under the trees. Should be easy to find us.
PLEASE DO NOT COME AT THE CHURCH FOR NO ONE WILL BE HERE.
Hope you to see you all there.
God bless you
P.S. If the weather is bad we will have a back up plan so please check your email at lunch time on Wednesday because if we need to revise the plan, that is when we will do it.